One of my most favorite things to do when I have the time is just to spend a few many slow moments wandering the galleries and soaking up all the inspiration that lives there.  Whether a person shares pages for a creative team or for no particular reason at all the fact that they have shared it..out there..is something pretty wonderful.  I love seeing all the art and stories (and hearts) shared.  It's like a wonderful, creative kind of  Lazy Sunday Afternoon Drive.  I take my time.  I stop and smell the roses.  I just soak it all up.  And every time I do that, I walk away feeling inspired and even more in love with scrapbooking.
And it's all the more amazing when I see how a scrapper has used something I've created to help them tell their own stories.  Here's a bit of Plant Your Story, spotted on my Lazy Sunday Afternoon gallery "drive":
Count the Waves by Cynthia
I love how Cynthia used the flow of this design to create a cohesive summer-y story.  Her element choices and use of color against the wood background and that beautiful sunny happy photo just oozes warmth and relaxed happy.  You look at this page and *feel* beachy-ness and sunny-ness and summer.  I especially love the use of the innertube as one of the circles — it at once fits the nautical theme of the page and draws the eye to that gorgeous photo.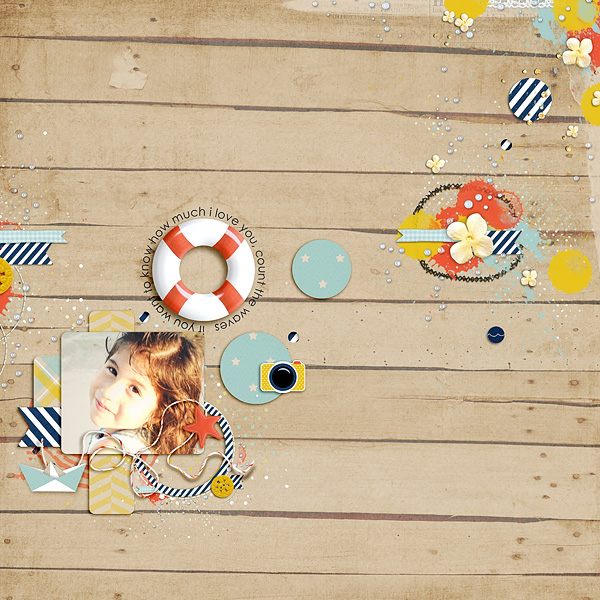 Spring by iciclelady
The story of Spring resounds so prominently here in every detail from the use of springy colors to the element details of flowers and butterflies.  But most of all it lives in the journaling here; the words convey what Spring means to her.  There is a lovely balance of whimsy (in scatters and elements) and clean fresh lines with just enough bold pops (the black in the "spring" and the green arrow and the pinks) to give the eye a place to rest and soak up the story.  And the use of a white background with these brighter, springy colors really gives the design an extra element of oomph.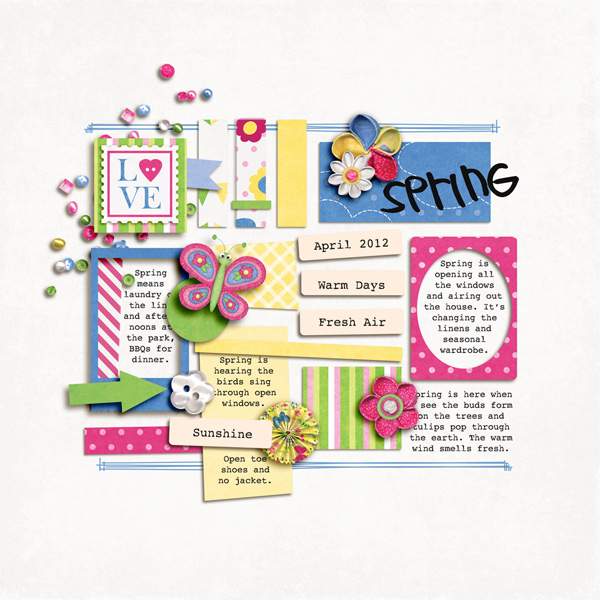 Corn on the Cob by kim21673
This page drew me in from the gallery with it's strong use of color, paper and pattern and that fabulous element cluster — which is the perfect little bundle of illustrative detail for this layout.  Another beautiful and cohesive bit of story on a page.  I love the hazy, summery photo processing and the fabulous photos of quintessential summer yum and those pops of red here work to create a natural visual triangle and balance.  (And I'm totally craving some delicious summer corn now, thankyouverymuch).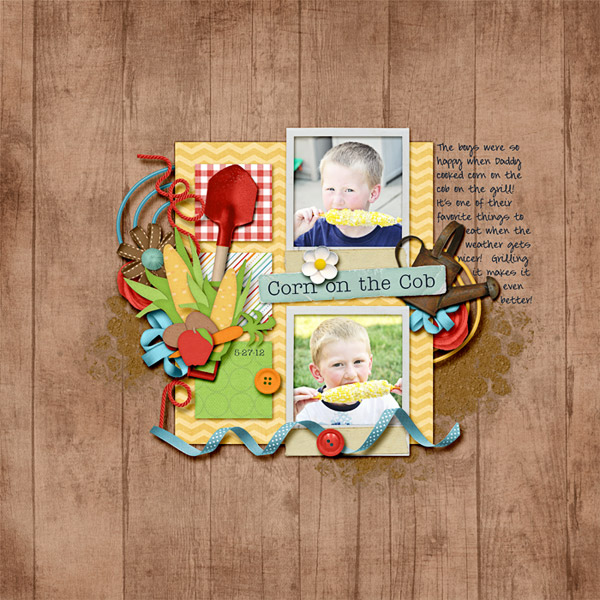 Me & You by kimpson
This page is beautifully crafted in every way to draw the eye to land (and stay) on that adorable photo.  The use of the neutral grey background paper allows the bright pink to pop and capture our interest.  And then the frame ribbon wrap and the painty title work hold our gaze on the happy photo!   I love how she "framed" the bright focal point with the more subdued yellows and the black and white doodle elements.  Everything works together wonderfully to document this supercute moment.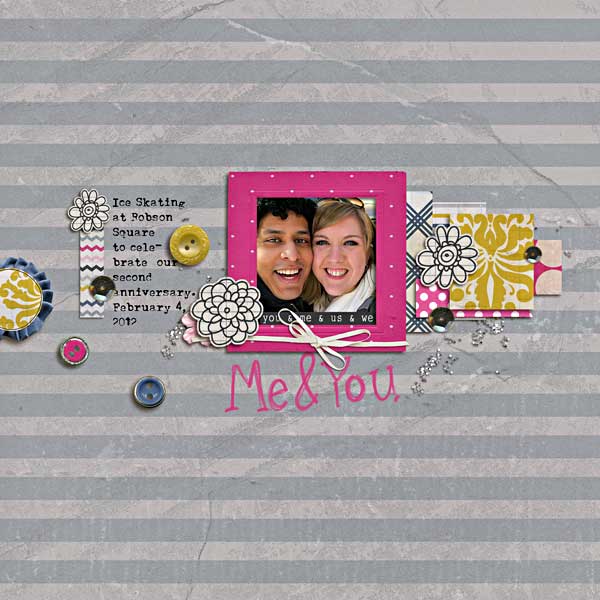 Drawing of Daddy by lovely1m
Lots to love about this page.  It's a wonderful use of a sunburst paper because it naturally draws the eye to the focal point.  And the photo spot is framed wonderfully between a bold title work and use of color in the tie trim.  Most of all though, I LOVE that this page documents a creation by her son!  That is one of my most favorite things to do and it's a wonderful way to really capture what your child is like at any given moment.  Nottomention that it's an extra special something for Daddy!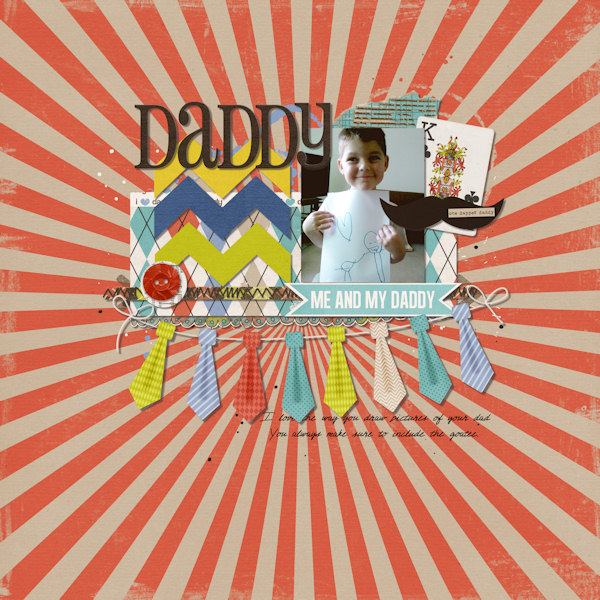 In The Garden With You by MrsFinn
This page is a festival of doodley and colorful goodness.  The doodle centric approach for this photo centric design really works beautifully for the story shared here.  It's the perfect element of whimsy and color and fun to accompany this journaling which is the star of this page.  I love love how she has built a page around the things that her son says whilst in the garden with her.  She captures his personality and those fleeting sweet sayings that will be treasured for years to come.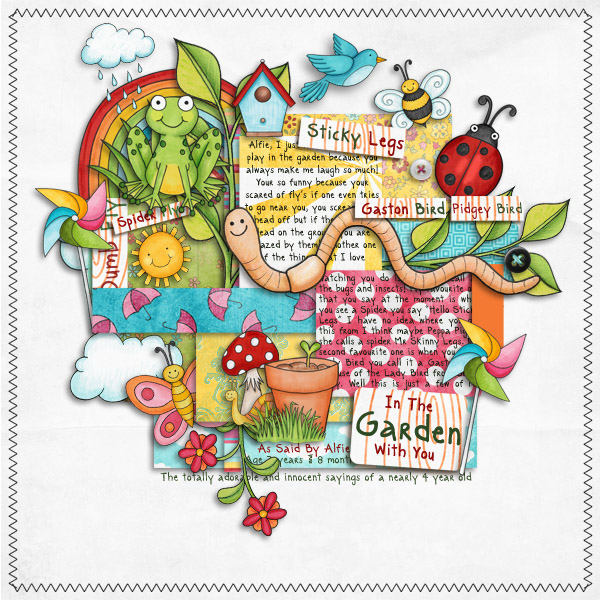 Candystore by Sannn
There are fabulous details to soak up here.  It's a fabulous use of pattern and paper.  And I really love how she extracted a candy jar and then created a label and used a flower from the kit to adorn it and create a fresh kind of element to go with the story here.  And the pile of sequins at the base of the page gives the impression of a cascade of candy.  All the while keeping one of the primary focuses on the photo.  Everything about this page is fun!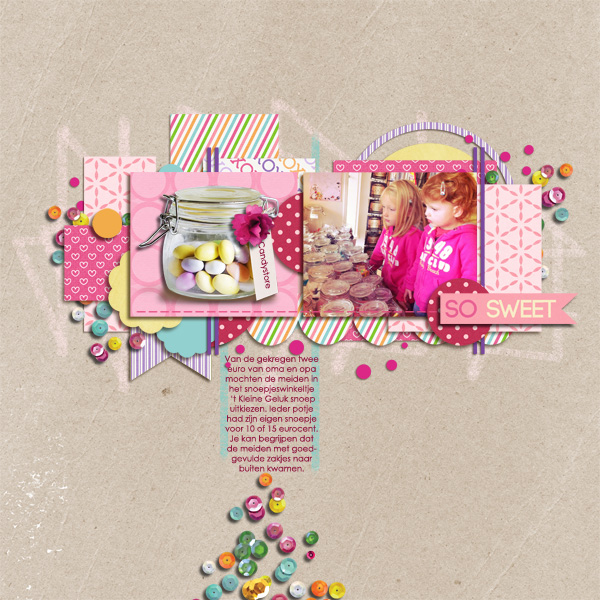 And these were just a handful of the very many pages that I LOVED ogling this weekend!  Thank you all for the inspiration!   Keep posting and sharing your stories!  It's a joy to see them!  And you might just get "spotted" in a future post after one of my Lazy Sunday Afternoon wanderings through the galleries.  For those featured today, be sure to check your inboxes for a little something.
And you can also always share anything with me on my facebook page or via email.  I love to connect and see what you've created!
Happy Scrapping!!