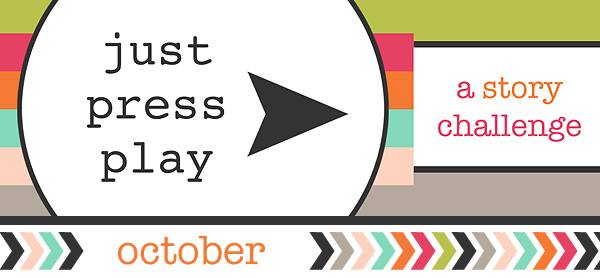 Welcome to the Just Press Play monthly story challenge for October!!  Just Press Play is a monthly challenge that is story-and-prompt centric.   My hope is to encourage you to Just.Press.Play.  Just start, just begin.  Dive in to telling your story one page, one journal prompt, at a time and have a lot of fun in the process.
It goes like this: I post a prompt.  You get your story on, creating and sharing your page or project inspired by the journaling nudge.    One winner will receive a $10 gift certificate to my store!
October is a month of seasons changing and of all things ghouly and ghosty (and adorable pumpkin-y too) with Halloween at the end of the month here.  And so we find ourselves surrounded by gobs of beautiful product inspired by the happenings of the season.  And the colors and moods of this time of year are brimming with potential for Story too.
And since both change and Halloween can be a bit scary, we're going to challenge ourselves with a Story Prompt of:
Fears
Fear, on its face, isn't necessarily the warmest or fuzziest topic for scrapbooking and storytelling.  And some may feel that it has no place in their albums or perhaps it's a little uncomfortable to think of putting pen to paper about something that may be a bit darker.
However, I really believe when we embrace all the nooks and crannies of our story we are honoring our authentic self; we are presenting the True Story instead of the Shiny Happy Story.  And in the end, the True Story will reveal the most beautiful things about ourselves.  And it will be the Story our loved ones want to know.
This is the kind of prompt that has the potential to be really cathartic, creatively and emotionally.  Sometimes giving voice to some of the darker, heavier aspects of our story can be therapeutic, even.  Allowing ourselves to release those emotions, let them go, and grow.
And as ever, there are many avenues you could explore.
You can put pen to paper about a deep down fear.
You can let yourself be guided by emotion and tackle moments of uncertainty or anxiety through your writing.
You can share your heart about a moment in your history wherein you felt gripped by fear.
Or struggled with the unknown or anxiety.
I have done just that with these two pages.  Which were, admittedly, challenging to scrap and journal.  And yet, they are bits of my story.  And in the process of the journaling and creating, giving voice to these moments and fears, it was empowering.  Because it wasn't the fear controlling me…it was the other way around, if that makes sense.
This first page confronts one of those unspoken deep fears: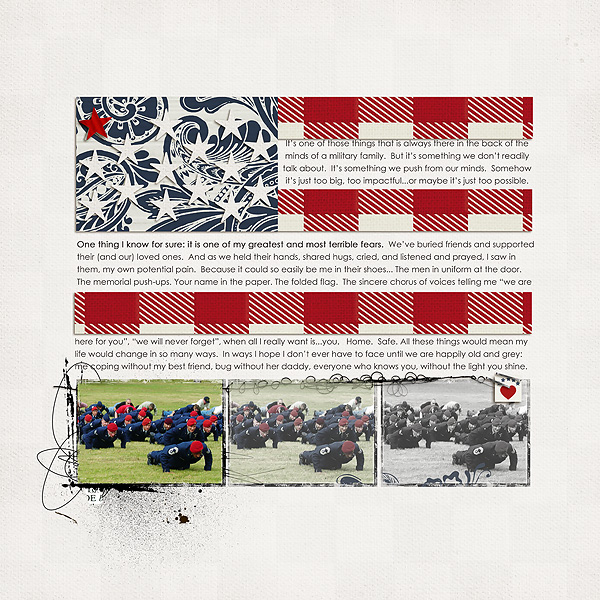 journaling reads: It's one of those things that is always there in the back of the minds of a military family.  But it's something we don't readily talk about.  It's something we push from our minds.  Somehow it's just too big, too impactful…or maybe it's just too possible.  One thing I know for sure: it is one of my greatest and most terrible fears.  We've buried friends and supported their (and our) loved ones.  And as we held their hands, shared hugs, cried, and listened and prayed, I saw in them, my own potential pain.  Because it could so easily be me in their shoes… The men in uniform at the door. The memorial push-ups. Your name in the paper. The folded flag.  The sincere chorus of voices telling me "we are here for you", "we will never forget", when all I really want is…you.   Home.  Safe. All these things would mean my life would change in so many ways.  In ways I hope I don't ever have to face until we are happily old and grey: me coping without my best friend, bug without her daddy, everyone who knows you without the light you shine.
And the second page is one of those cathartic pages.  One of those scrapping through the icky pages.  This was one of those pages that I wasn't ready to scrap and journal until two years after it had happened. And wasn't ready to share until 18 months after that. But it's one of those pages that reveals just how much story and scrapping..even the dark clouds in our lives..can be powerful. Even cathartic and healing. Those darker times are still part of who we are. Story lives there.
It reflects on a specific moment of fear in my history.  I chose to go photoless with the design here, in part because there is no photo that represents this story.  But also because the focus here is the storytelling.  In this page I used the darkness and the deepness of black to convey emotion of this day and memory I was scrapping.  The weight of the fear and the dread and worry of the story is almost tangible simply through the power of color.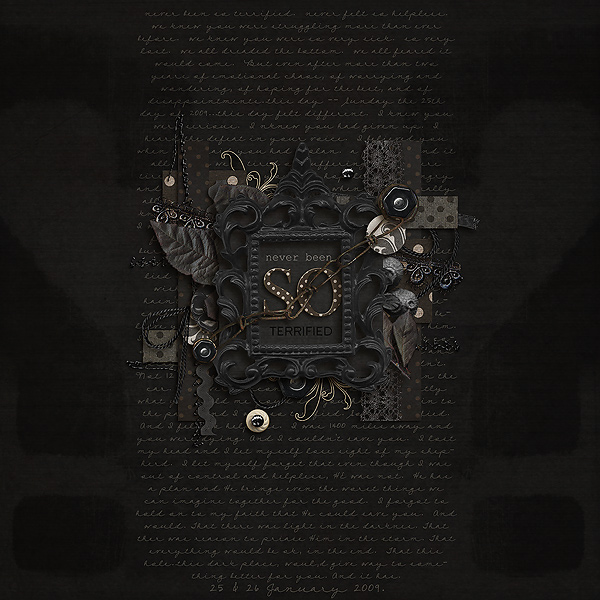 journaling reads: journaling reads: never been so terrified.  never felt so helpless.  we knew you were struggling more than ever before.  we knew you were so very sick.  so very lost.  we all dreaded the bottom.  we all feared it would come.  But even after more than two years of emotional chaos, of worrying and wondering, of hoping for the best, and of disappointments..this day — Sunday the 25th day of 2009…this day felt different.  I knew you were serious.  I knew you had given up.  I heard the defeat in your voice.  I believed you when you said you had a plan.  a plan to end it all.  you were tired of suffering.  you were tired of the guilt.  you felt hopeless and angry and defeated and sad.  And so when I was finally able to reach you on the phone and we spoke, I knew that bottom had come.  You were done.  And I was terrified.  I felt so helpless.  As angry and frustrated and tired as I was, I still felt the burden of your pain.  And I couldn't bear to let it win.  I spoke with urgency to everyone..I rallied support in prayer. I was going to fight. I wish that Chris had listened to me. I wish he hadn't already given up the fight for you. Becauase he didn't take it seriously.  He didn't believe you would do it.  I was SO angry with him.  I guess in some ways I still am. So he didn't cooperate with the plan. And mom and I hoped and prayed that we had until tomrrow.  We didn't.  Not 12 hours later I got the call.  You were in the car. You were unconscious.  You did exactly what you told me you'd do. You had given in to the pain. And I was so terified.  So so terrified.   And I felt so helpless.  I was 1400 miles away and you were dying. And I couldn't save you.  I lost my head and I let myself lose sight of my shepherd.  I let myself forget that even though I was out of control and helpless, HE was not.  He has a plan and He brings even the worst things we can imagine together for the good.  I forgot to hold on to my faith that He could save you.  And would. That there was light in the darknes. That there was reason to priase Him in the storm. That everything would be ok, in the end.  That this hole..this dark place, would give way to something better for you. And it has.  25 & 26 January.
(This page design was later transformed into a template featured in Birchwood.)
Stacy approached this prompt similarly as she reflected on moments of transition and change and life-altering events that were full of anxiety and uncertainty and the feelings of processing all of that.  And this page, was, in some respects part of that process.  Part of the figuring it out, the growing, the overcoming.  She too used color to convey the tone and emotion here.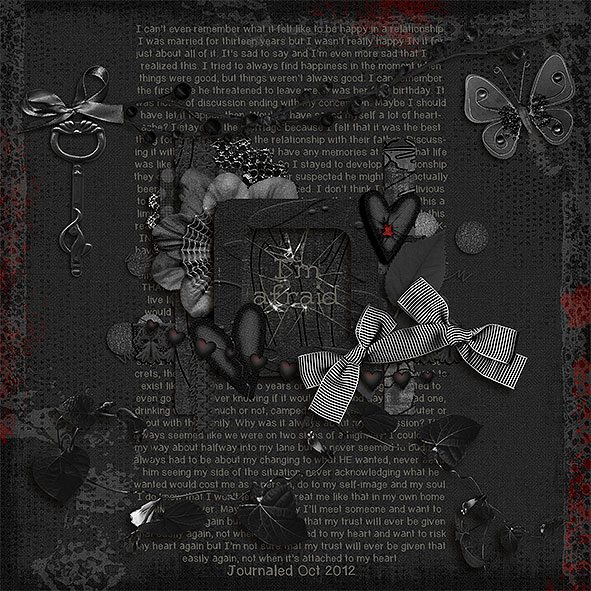 Stretch Your Story tip:  Halloween products, sometimes darker and particularly themey, can be adapted to scrap more versatile stories too.  And pages that document fear or moments of deep emotion really lend themselves to that kind of stretch.  You can use dark color and imagery to communicate tougher stories (of fearful moments, of uncertainty, of change).
But even scrapping a topic like Fear doesn't have to be frightening.  There are avenues for scrapping stories of Fear that don't have to be dark:
You can have fun getting a little cheeky and poke fun at yourself for an irrational fear.
You can document a prank…a moment where you were scared out of your wits by your husband who was hiding in the dark just to see if he could make you scream or who shouted SPIDER! as you were reaching under the couch for a fallen toy (not that that ever happened to me).
You can document something you feared as a child, but fear no longer.
You can embrace your truth for overcoming fear.
You can document a story of courage or hope.
Natascha did just that with her beautiful page: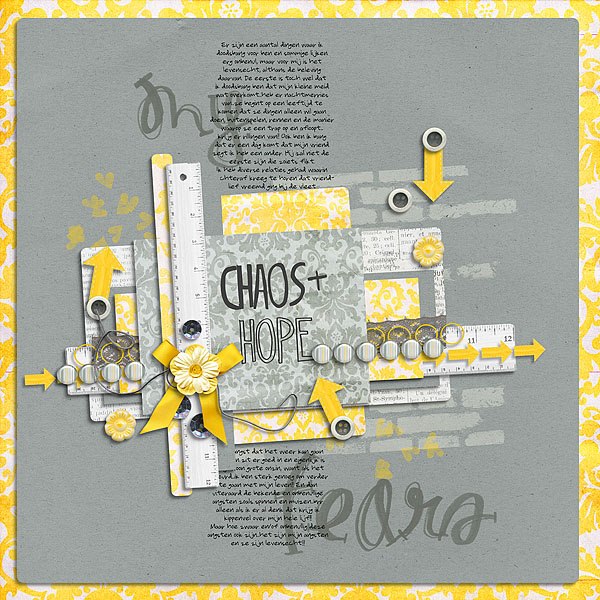 And I poked a little fun at myself with this page about my Out-Of-My-Gourd kind of irrational fear: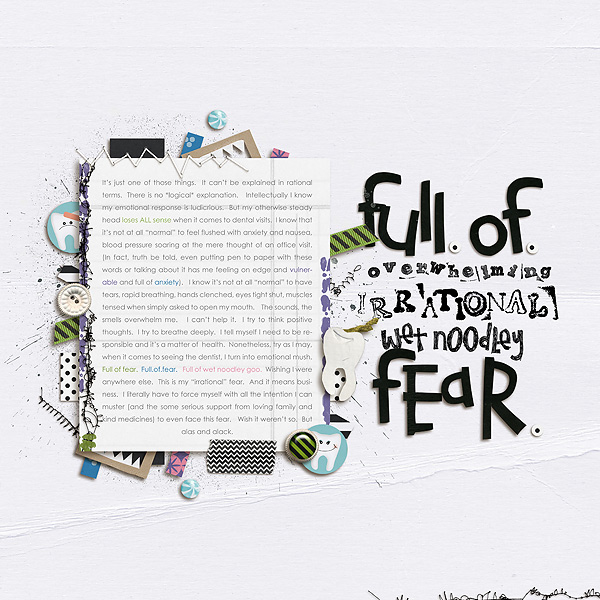 journaling reads: It's just one of those things.  It can't be explained in rational terms.  There is no *logical* explanation.   Intellectually I know my emotional response is ludicrious.  But my otherwise steady head loses ALL sense when it comes to dental visits.  I know that it's not at all "normal" to feel flushed with anxiety and nausea, blood pressure soaring at the mere thought of an office visit.   (In fact, truth be told, even putting pen to paper with these words or talking about it has me feeling on edge and vulnerable and full of anxiety).   I know it's not at all "normal" to have tears, rapid breathing, hands clenched, eyes tight shut, muscles tensed when simply asked to open my mouth.    The sounds, the smells overwhelm me.   I can't help it.  I try to think positive thoughts.  I try to breathe deeply.  I tell myself I need to be responsible and it's a matter of  health.  Nonetheless, try as I may, when it comes to seeing the dentist, I turn into emotional mush.  Full of fear.  Full.of.fear.   Full of wet noodley goo.  Wishing I were anywhere else.  This is my "irrational" fear.  And it means business.  I literally have to force myself with all the intention I can muster (and the some serious support from loving family and kind medicines) to even face this fear.   Wish it weren't so.  But alas and alack.
No matter what direction you feel pulled to go with your storytelling, I hope this story challenge encourages you to step out of your own box a little bit.  To get a little creative or have a little fun, or to let yourself really let go and embrace catharsis through journaling, scrapbooking or art journaling.  Your story will be all the more authentic and emotional and YOU in the end.  And I can't wait to see your pages!!!

Congratulations to last month's winner, corrin!!   Oh I love the story documented here…of artifacts of love from her daughter..little love notes, pictures, cards.  I especially love how she chose to document the actual note and picture here.  That's a snapshot of this moment preserved in a way that means more than simply recounting it.  Brilliant page!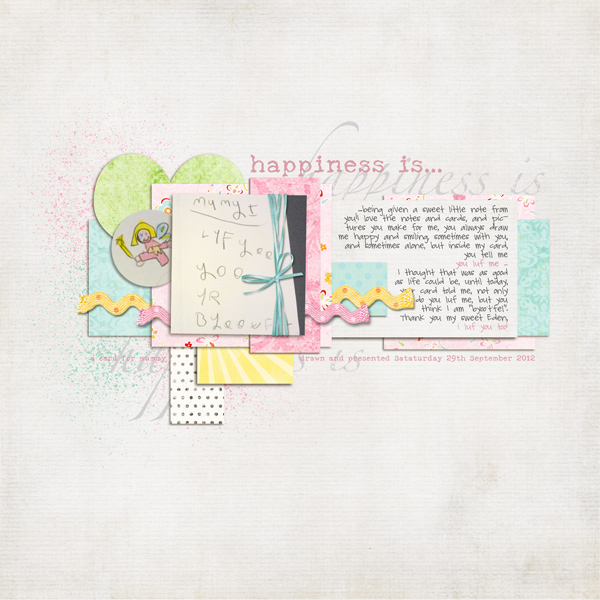 I can't tell you how much I loved seeing all the stories off Happiness Is in the gallery!!  What inspirational storytelling and scrapbooking!  Thank you, thank you all for playing along!  I look forward to seeing the pages for this month's challenge!!
————————————————————————————————————————————————-
To join in the challenge this month, simply create a layout or project or post following the posted prompt. Then, upload to the Plant Your Story gallery and comment here with a link to your posted page. You have until the 5 Monday November at midnight EST, to complete the challenge. I will randomly select one winner to receive a $10 gift certificate to my store!!