Welcome to the Just Press Play monthly story challenge for April 2014!!
Just Press Play is a monthly challenge that is story-and-prompt centric.  The spirit of this challenge is inviting and fun and encourages us to take a fresh look at how we are telling our stories.  It's where story meets creativity.  And journaling meets fun.
My hope is to encourage you to Just.Press.Play.  Just start, just begin — dive in to telling your story one page, one journal prompt at a time and have a lot of fun in the process.
And it works like this:
Each month I will share a basic prompt for journaling (on your scrapbook pages, in your project life pages, or on your blogs, or where ever and however you like to get your story on paper).   Some prompts may be longer and ask us to dig a little deeper in to our story and others will simply be "story starters".
To join in the challenge each month, simply create a layout or project or post following the posted prompt.  Then, upload to the Plant Your Story gallery and comment in the monthly blog post with a link to your posted page.  You have until the end of the month at midnight EST, to complete the challenge.
Each month one participant will win a $10 gift certificate to my store!!
My vision for these is that there will be room to "play". The monthly prompt will just be a place to start from.  There will be no product requirements, no parameters beyond the journaling nudge.  You will go where your creativity guides you in design and in words.
If you *do* use my products (remember: this is not required!) you will earn one extra entry and chance to win the gift certificate to my store.
---
This month's story prompt is a simple phrase derived from my tag line and it encourages us to find the story that lives in our everyday moments:
Story Lives Here
For me "story lives here" usually resides in little moments and in everyday moments. The overlooked kinds of moments. Like the notes my daughter writes to me and leaves around the house. Or an exchange with a dear friend on the phone. Or how, just last week, our little family huddled around a mini campfire to make s'mores together and listen to my daughter read to us a story (she called it a "legend").
Something simple…but something that means MORE. Story Lives Here moments are the kind of moments that cause me to pause in time for a moment…realizing that this *means something*. It isn't just an idle conversation, or a passing gesture, or a forgettable shared moment…it is a symbol of a greater truth or emotion, a symbol of a relationship or of values I hold.
This is a prompt you can take in virtually any direction. You can use it as the actual title for your page, you can use it as a #hashtag, you can use it as a caption for a photograph. Or just a general thought to carry in your head or heart whilst scrapping…letting it guide your story and page as you do so.
Here's a peek at a handful of pages of mine that really capture the spirit of the Story Lives Here nudge.
Here, I summarize our April Fools' Day 2014 by reflecting on my daughter's anticipation and excitement about all the prankster related fun she found in that day.  And in doing so, I've painted a bit of what I call a "personality portrait" wherein I document a snippet of who she is becoming.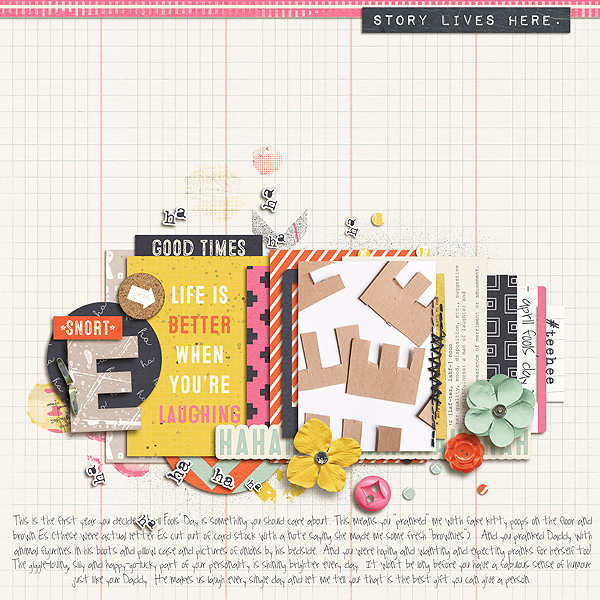 journaling reads:  This is the first year you decided April Fools' Day is something you should care about. This means you "pranked" me with fake kitty poops on the floor and brown Es (these were actual letter Es cut out of card stock with a note saying she made me some fresh "brownies"). And you pranked Daddy with animal figurines in his boots and pillow case and pictures of onions by his bedside. And you were hoping and wanting and expecting pranks for herself too!  The giggle-loving, silly and happy-go-lucky part of your personality is shining brighter every day.  It won't be long before you have a fabulous sense of humour just like your Daddy.  He makes us laugh every single day and let me tell you: that is the best gift you can give a person.
This kind of prompt really lends itself to reflective journaling, which is one of my favorite ways to get Story-to-Page.  I'll look at a photo, let myself reflect on the moment it memorializes and then I write about how the photo makes me feel.  I've done that here with this page, Hand in Hand.  It's a simple, almost unremarkable photo of my daughter walking with her Daddy.  It's an everyday kind of snapshot.  But as simple a moment as it is…it means MORE.  It's the perfect everyday kind of "story lives here" moment.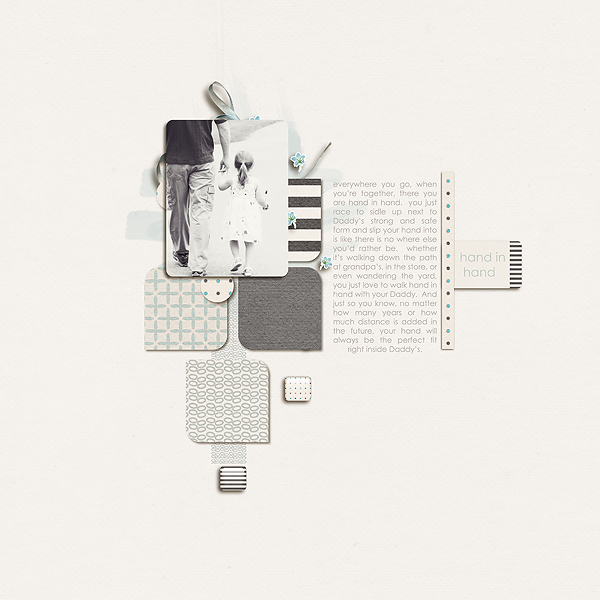 journaling reads: everywhere you go, when you're together, there you are hand in hand. you just race to sidle up next to Daddy's strong and safe form and slip your hand into is like there is no where else you'd rather be. whether it's walking down the path at grandpa's, in the store, or even wandering the yard, you just love to walk hand in hand with your Daddy. And just so you know, no matter how many years or how much distance is added in the future, your hand will always be the perfect fit right inside Daddy's. 
This is a page taken from my album entitled "today", which really could just as easily be titled "story lives here" because it's full of pages that capture "regular" moments – portraits, candids, nondescript, everyday happenings.  The journaling on these kinds of pages gives a snapshot of Who, What, When, and Where of the photo while also injecting a smattering of the Real Story: the why I treasure it so.  This one captures a moment of cuddle between my dear grandfather and my daughter.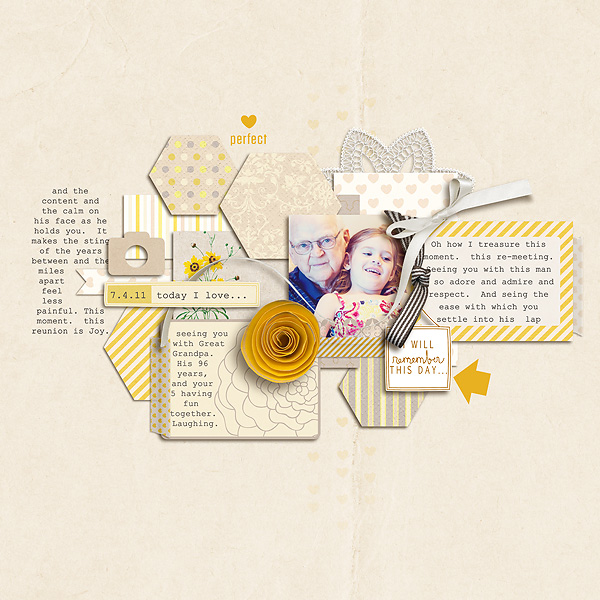 journaling reads:  today I love…seeing you with Great Grandpa. His 96 years, and your 5 having fun together. Laughing.  Oh how I treasure this moment. this re-meeting. Seeing you with this man I so adore and admire and respect. And seing the ease with which you settle into his lap and the content and the calm on his face as he holds you. It makes the sting of the years between and the miles apart feel less painful. This moment…this reunion, is Joy.
Jen has brilliantly documented the Story that lives here through in a page that is part "personality portrait" and part everyday documentation with the benefit of hindsight.  I love how she writes to her son, reflecting on how he has grown and changed, through her description of the space-and-time during which this photo was taken.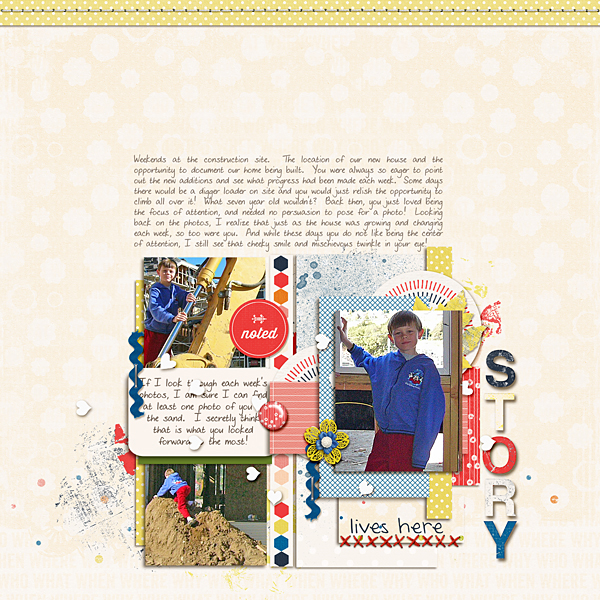 Journaling reads:  Weekends at the construction site. The location of our new house and the opportunity to document our home being built. You were always so eager to point out the new additions and see what progress had been made each week. Some days there would be a digger loader on site and you would just relish the opportunity to climb all over it! What seven year old wouldn't? Back then, you just loved being the focus of attention, and needed no persuasion to pose for a photo! Looking back on the photos, I realize that just as the house was growing and changing each week, so too were you. And while these days you do not like being the center of attention, I still see that cheeky smile and mischievous twinkle in your eye!  If I look through each week's photos, I am sure I can find at least one photo of you in the sand. I secretly think that is what you looked forward to the most!
I love how Stacy has used the nudge to guide her title work and how her journaling reflects on her documentation of her stories and memories.  She so beautifully highlights how she acts as a family historian and true story keeper.  Her heart for the story shines through her photo and journaling.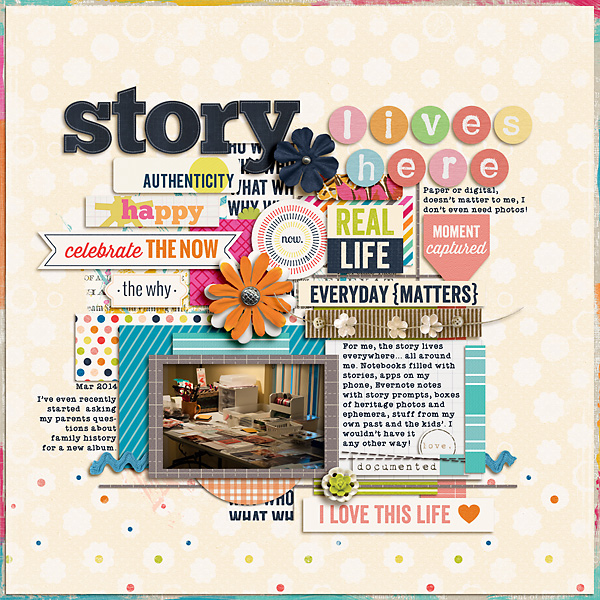 ---
To join in the challenge this month, simply create a layout or project or post following the posted prompt. Then, upload to the Plant Your Story gallery and comment here with a link to your posted page. You have until the Wednesday 3o April at midnight EST, to complete the challenge. I will randomly select one winner to receive a $10 gift certificate to my store!!  Those who create their submission using my products will receive an extra entry to win.
I hope you'll join with me and scrap something rooted in this inspiration!
And as a kind of "welcome back" to the Just Press Play challenges I've created a fresh free download that you may use when scrapping your Story Lives Here pages (though feel free to snag even if you don't plan on using it for your challenge page).