I had delayed posting this until now because unfortunately the store at The Lilypad was positively overloaded, despite the best efforts of the girls to prepare for the uptick in site traffic in advance of this weekend. What a blessing though, to be SO busy that the site couldn't handle it for a little bit there. We all thank you so much for all your support and especially your patience. I know this is a busy day for everyone and we are so sorry for the delay and troubles and even more grateful for your hanging in there with us today!   It looks like the site is now up and functioning (ever so slowly with peak usage). Yay!
————————————————————————————————–
Happy Digital Scrapbooking day!!
It's that time of year again…that special time dedicated to celebrating this craft and art we love so much and we honor our penchant for telling our stories and playing with programs by shopping and scrapping and chatting and browsing and soaking up all the fun to be had in the digital community. It's a day full of busy and creativity and I love it so much because in the end, after all the hubbub, it's all about Getting Excited To Tell Our Stories.
So here's what I have going on this weekend.
The Lilypad is positively hopping with games, challenges, forum fun, and sales and sales and TONS of new releases and more sales.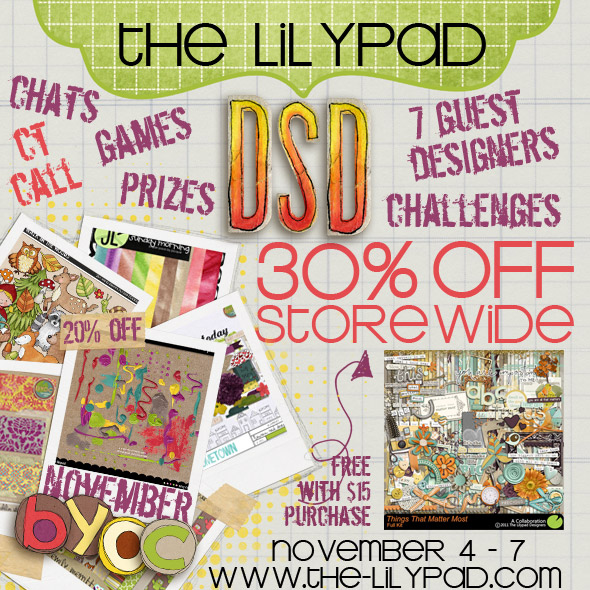 And it all starts with the release of the November BYOC, which is full and gorgeous.
Meet, Milkweed: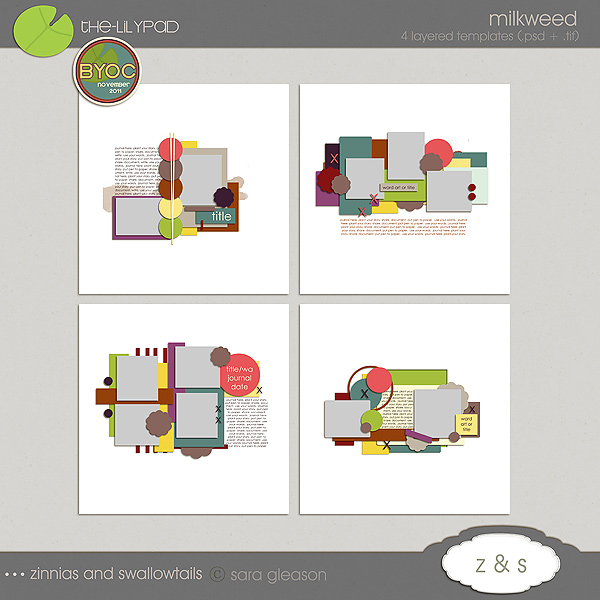 The Milkweed templates are designed with a heart for capturing the details of your story, a series of photos and the warmth that lives in the every day moments.   Inspired by autumn sun and color and the layers of fallen leaves with varied design styles ranging from a "fuller" page, richer in layers with many little details and a little more depth to cleaner and more linear designs.  And they give you the chance to scrap some photo centric stories that feature a series of photos or play with paper in fresh ways!
Also new for the November BYOC is the Thankful Collection: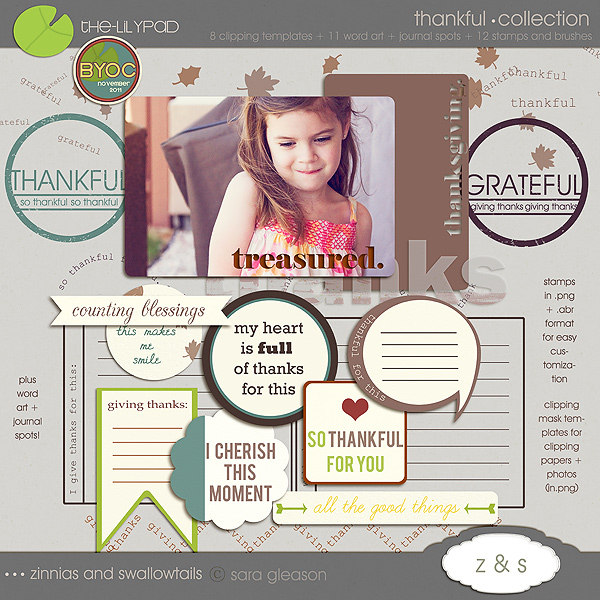 The Thankful collection is a warm, happy, and positive collection of  clipping mask templates, word art, text paths and stamps/brushes designed in the spirit of simple happinesses, and autumn.
Here's a closer look at the components of this wonderful collection of details to add to your pages: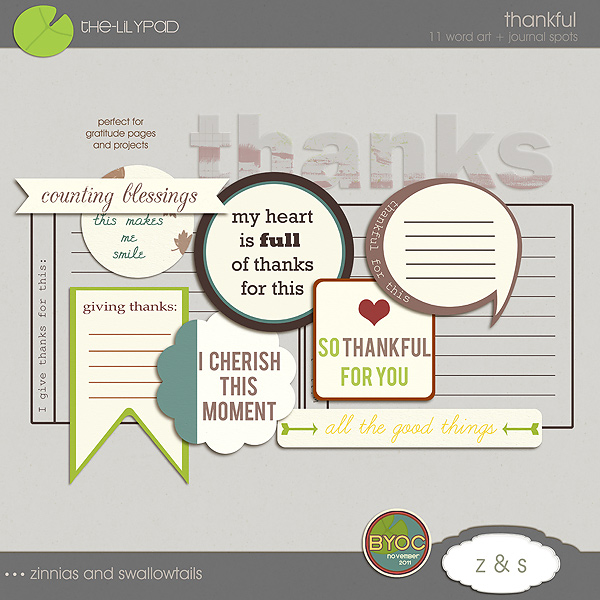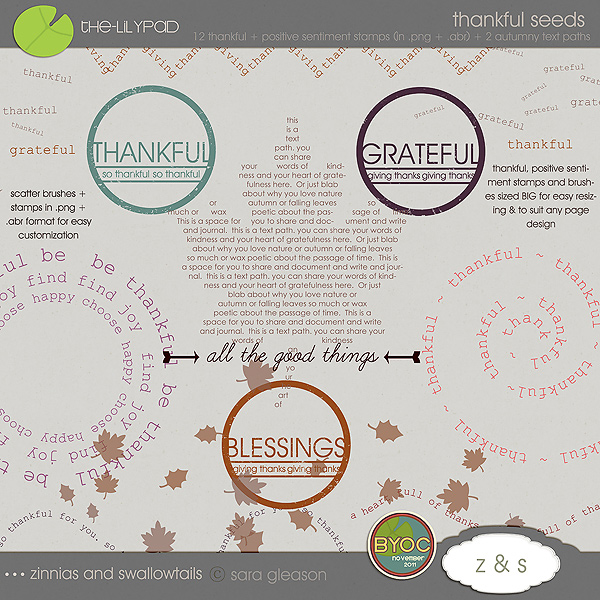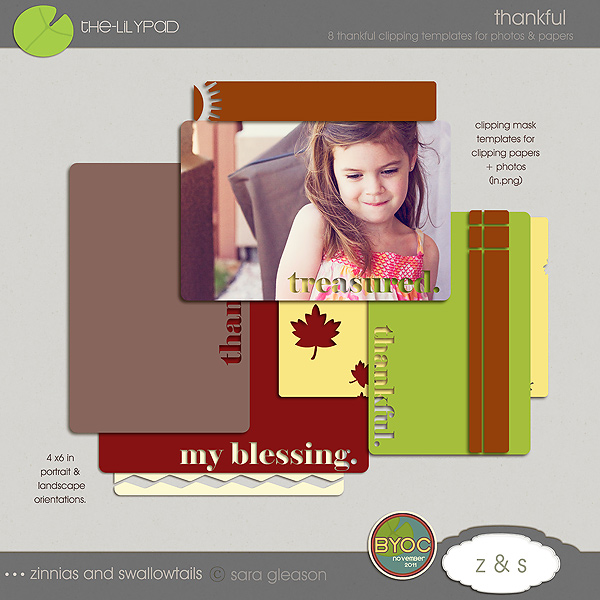 Here is some beautiful inspiration from the girls: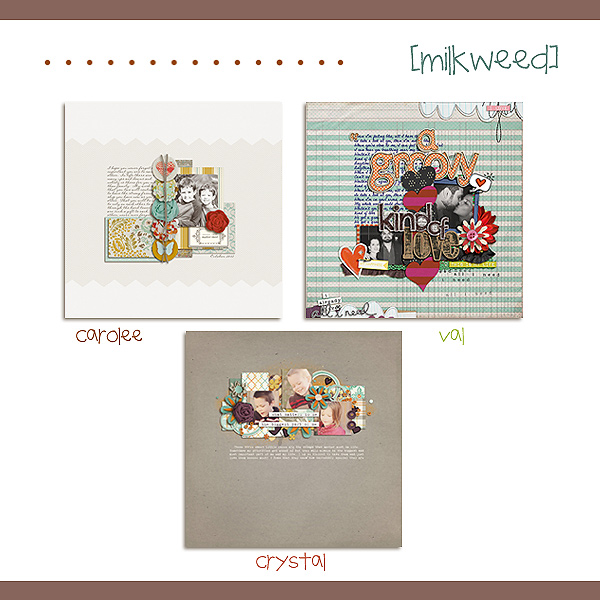 As if the BYOC goodies weren't enough in the way of gorgeous goodies…The Pad is overflowing with amazing fun and tons (over 60!!) new releases for Digital Scrapbooking Day!
I have several new releases myself including a couple collaboration projects with Crystal Livesay!  We have teamed up for a fun and fabulous Grab Bag of 8 page design templates.  And since Grab Bags are all about the deep savings, you can snag this collection of templates for only $3 through DSD weekend and Monday.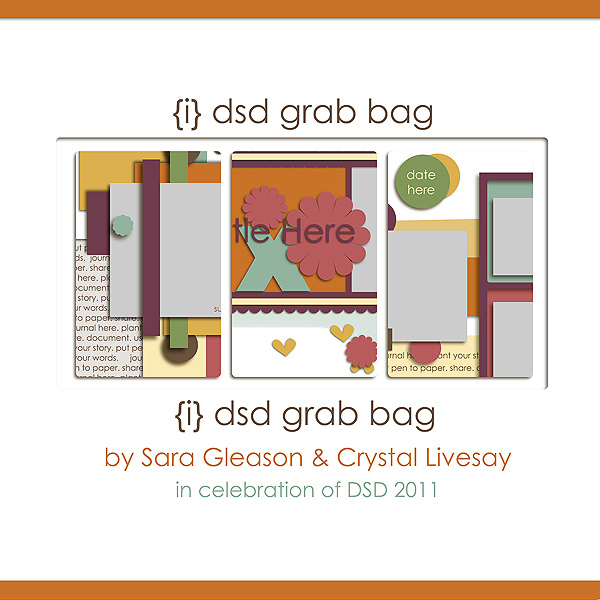 Here's a peek at the iDSD Grab Bag's innards: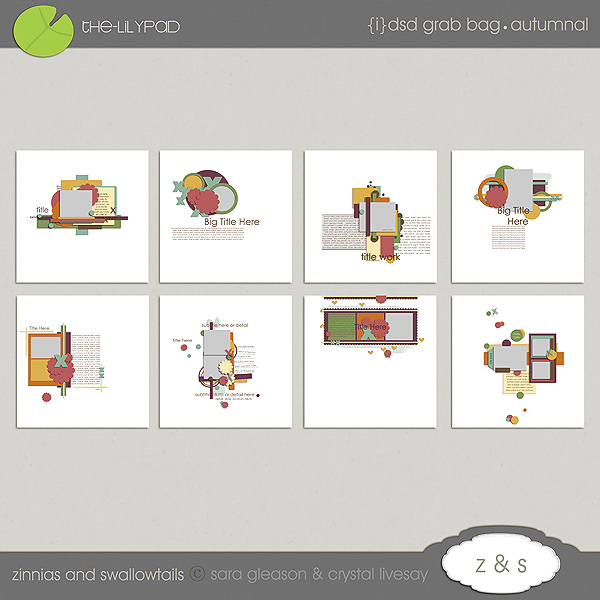 And also new this weekend is the November installment of our Grow With Love: Letters collection: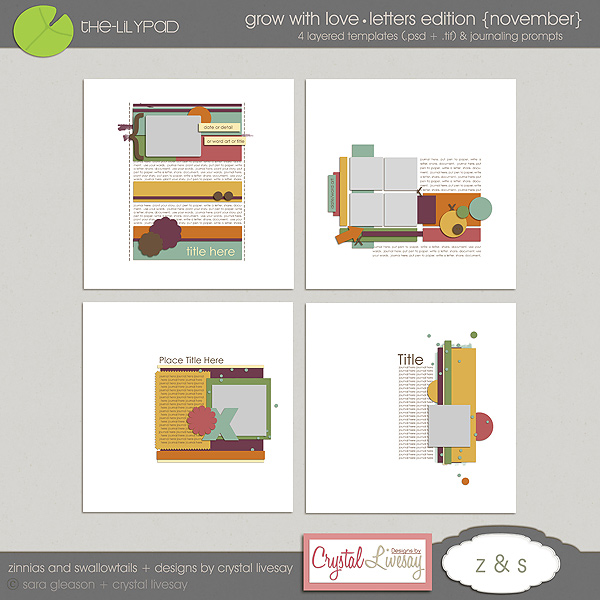 And here's some inspiration with the Grab Bag designs and November letters designs: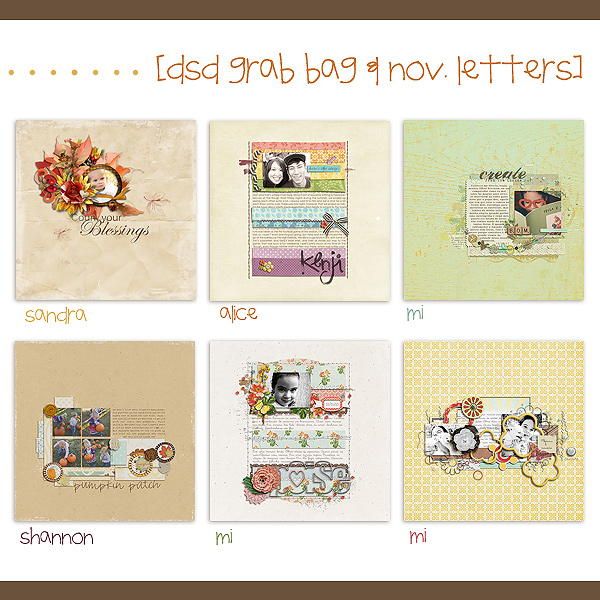 The best part of all this yummyness is that they are all available through the weekend and Monday for 30% off (except the new BYOC which is available for 20% off OR 30% off if you are a newsletter subscriber and use the coupon for exclusive savings found there).  In fact, my entire store is available for 30% off through Monday 7 November.   Woot!
Not to mention this seriously gorgeous Free With Purchase kit from The Lilypad designers, which is free with any purchase of $15 or more in the store: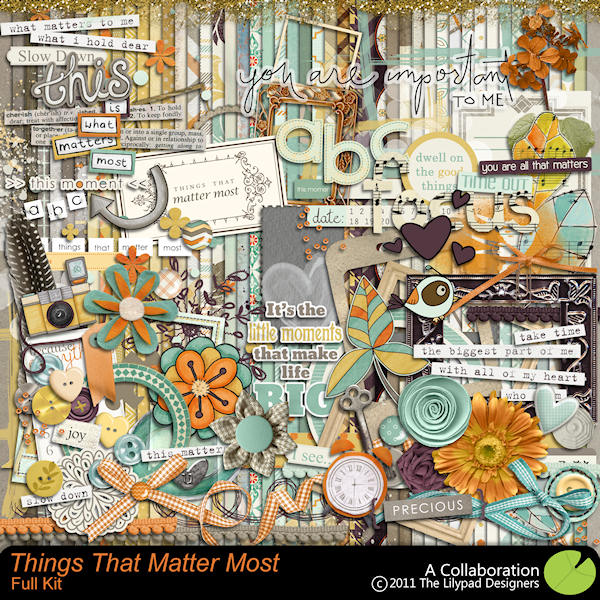 And for a little something extra here's a fun chance to win a gift that keeps on giving (like the jelly of the month club, lol!).  Every order of more than $10 this weekend will be entered to win a membership in the Seeds of the Month club — which entitles the winner to a $10 GC to my shop for every.single.month in 2012! 🙂
Not only that, there is a fun and fabulous free download available on the Plant Your Story facebook page.  If you've never scrapped with a template or never used a journaling prompt to get your creative thought process going and to encourage you to plant your story on your art and pages, here is the perfect opportunity to get a taste of both…for FREE.  You can snag this Grow With Love sampler — a set of templates which are accompanied by two thoughtful journal prompts — on the PYS facebook page. Just check the left sidebar and click the Happy DSD tab. ♥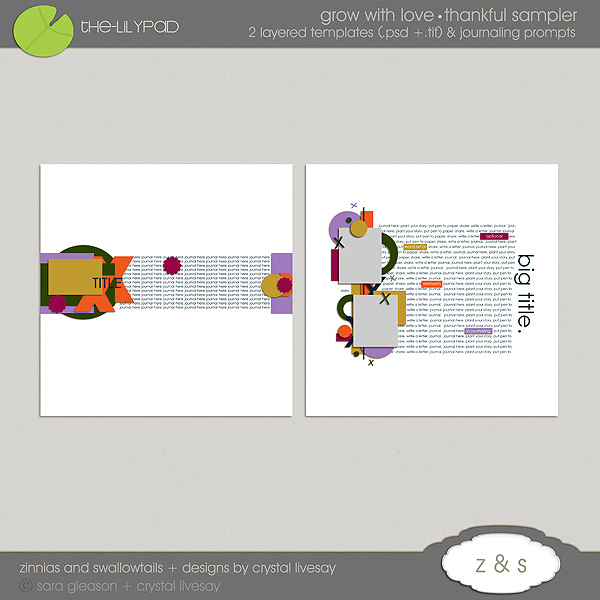 Annnnd. This warm set of autumny sweet tags is still available as an exclusive download on the Zinnias and Swallowtails facebook page.  Simply click on the "exclusive" tab to snag it if you haven't already. (It will be removed on Tuesday).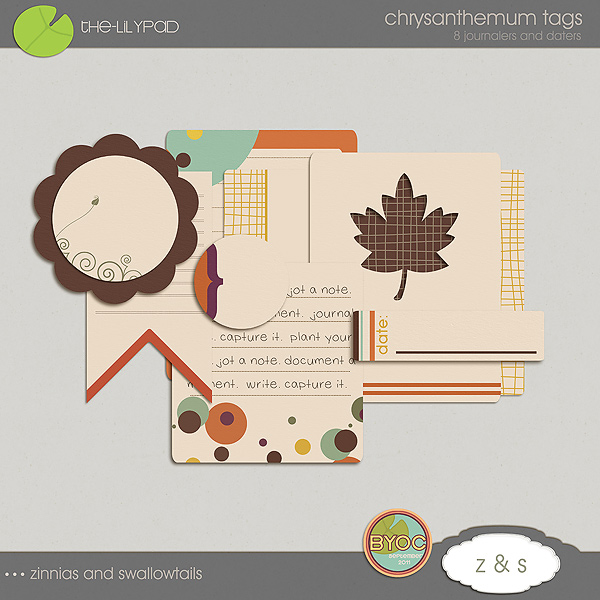 So hope you all have a beautiful weekend!   And please, feel free to share any of your art and stories with me via email or on my facebook page.  I LOVE to see your work!!
Happy scrapping!!