I hope everyone has been having a beautiful week!
I am happy to share Day Three of the Grow With Love: Letters project today!  In Day One we set our compasses for the year and in Day Two we made a deliberate effort to focus on the positive foundations of ourselves.  Today's post ventures into sharing encouragement and gaining big picture perspective.  Let's take a peek: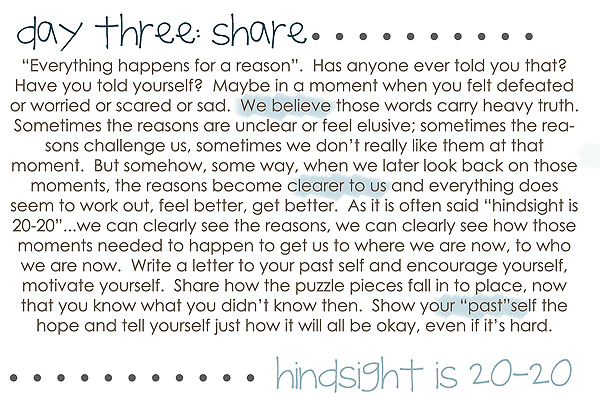 Right from the off I could see how this may be a heavy page for myself.  There is a page I've been wanting needing to scrap for almost two years now.  But it's one of those emotional, cathartic types and frankly I've been avoiding it.  Not entirely intentionally, but it was easy to scrap the other lighter things.  And so I have been.  In fact, I actually tried to think of something else to scrap for this prompt.  But this page kept tugging at me and it turns out this prompt was a perfect and timely opportunity to finally dive in.  Because this page that has been brewing is a perfect example of a "hindsight is 20-20" moment for me.
So for me, it was a bit challenging.  But then, also amazingly empowering and encouraging.  The whole process of scrapping this prompt became a reminder for me of the big picture.  And my big picture is framed by my beliefs and experiences, but it tells me that even in those moments when I feel so out of control, there is a plan (and a better one than my own).  My lesson was, to a degree, at its core: "when you are grateful fear disappears and abundance appears".  It can be so reassuring and reaffirming to look back in hindsight and be able to discern the reasons for the tougher moments.  And to learn from them so when faced with challenges in the future I can rely on what I know is true instead of being guided solely by the moments in the present.
So, all that said.  My page looks a little dark and scary (and if anyone is familiar with my scrapping, I don't do dark and scary).  BUT really the message for me, the process for me, and the hindsight I am communicating is…light and beautiful and amazing.  I think I may do a second accompaniment page for this prompt.  To kind of echo the beauty of hindsight.  Because two years later, things are not this dark.
So how does this prompt speak to you?  Do you have a moment, like me, that is clear to you now, but that seemed muddy once upon a time?  Or is your hindsight moment one full of humour?  Is it a "note to self"?  Think about some of the lessons you feel you've learned in life and trace it back to the beginning…how did you learn it?  Where does your wisdom in life come from?  What experiences got you to where you are?  Consider all of that as you think of writing this letter.
Can't wait to see!  Happy Growing and Happy Scrapping!
Crystal will be presenting the fourth prompt for Letters next Wednesday.