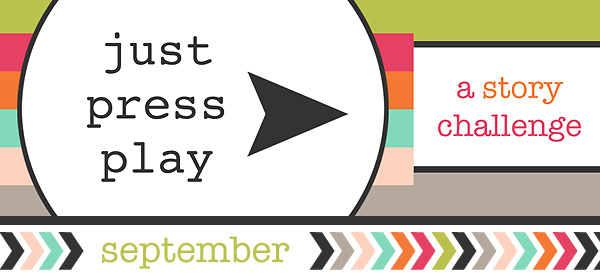 Welcome to the first Just Press Play monthly story challenge!!  Just Press Play is a monthly challenge that is story-and-prompt centric.   My hope is to encourage you to Just.Press.Play.  Just start, just begin.  Dive in to telling your story one page, one journal prompt at a time and have a lot of fun in the process.
It goes like this: I post a prompt.  You get your story on, creating and sharing your page or project inspired by the journaling nudge.     One winner will receive a $10 gift certificate to my store!
This month's prompt is really simple.  It may even be one you've ventured in to before in your story and scrapping.   But it's the kind of prompt that's at once relatable and full of potential for story:
Happiness Is….
I find sometimes that the simplest nudges reveal some of my most powerful journaling or encourage me to share bits of story that may otherwise go unnoticed.  And that's certainly the case with this prompt.  When I ponder what Happy means to me, I'm immediately flooded with a variety of memories and lessons to share.
This is the kind of prompt that holds so many different avenues for exploring in your storytelling.  There are layers here.
You could keep it simple and reflect on the little every day things that make you smile.
You could create a list of things that make you happy.
You could dig deeper and share the one truth about Happiness that you have learned in your life.
Or you can share what you hope your children or loved ones will carry as their own truth about the Happy.
You can even take it to a playful place and be tongue-in-cheek with your journaling.
Truthfully this is the kind of prompt that can uncover 143 different stories for each of us.  Here are a few from The Storytellers to inspire and encourage you.  The range of story here for the same prompt amazes and inspires me and I hope it will you, too!
Elaine's scrapping is beautiful here.  It's warm and the yellow just naturally conveys that sense of happy.  What I love most are the dear photos here and how she has documented an everyday kind of happy, and how she has expressed that Happiness lives in relationships.  So true!  And so beautifully scrapped.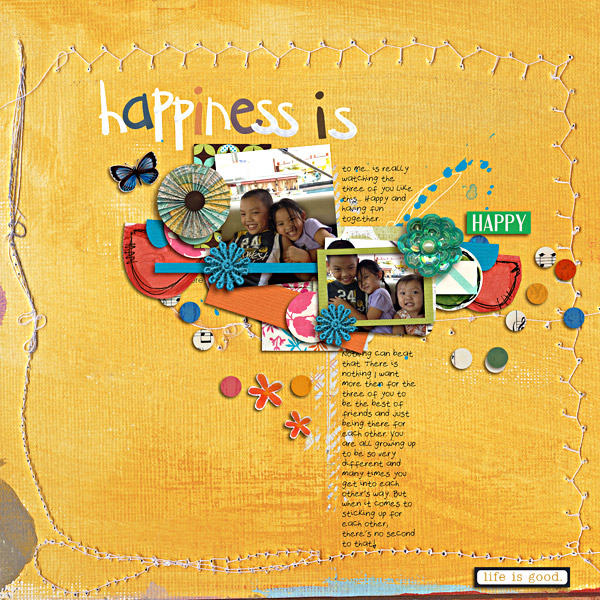 Erika created a beautiful mosaic of personality here with all these expressive photos of her son.  The linear clean lines frame the journaling so well.  And the journaling here is really heartfelt.  I love how she speaks to her son directly with her words.  I love how she reflects on what lessons he as taught her.  This is the kind of Portrait of a Relationship page that I know both of them will treasure.  And it's the kind of portrait of motherhood that many of us can relate to.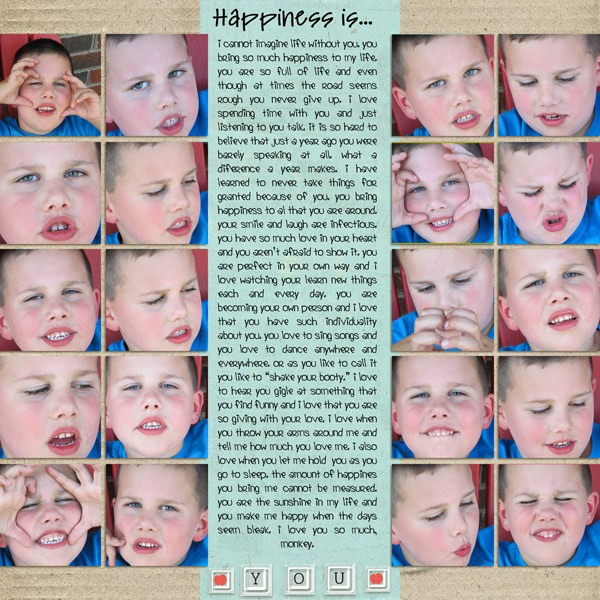 Eryn shared a different kind of portrait of motherhood to which we can all relate: Happiness being when the house is quiet and everyone is sleeping.  She expresses happiness as it is for her NOW in this moment.  And it's one she reflects upon almost regretfully.  This is a powerful photo-less design with honest journaling.  I am particularly drawn to how she communicates emotion through her use of color and design choices (the dark paints, the pops of color in the nighttime paper pieces).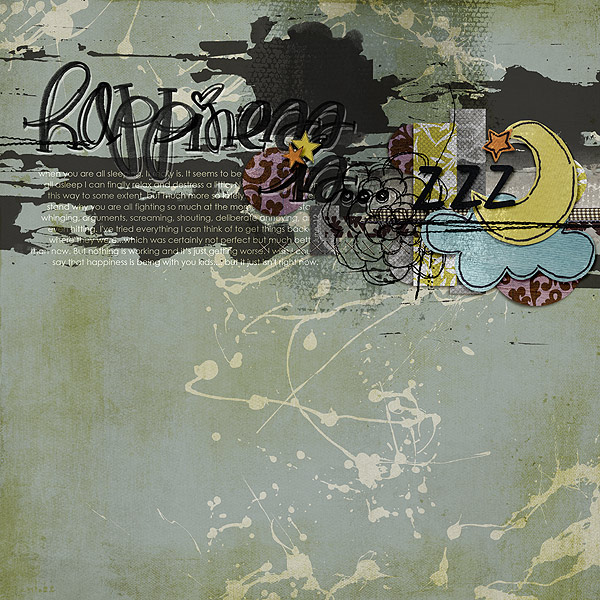 Heather chose to share a truth she carries with her about what Happiness is and the result is a beautifully thoughtful page that doubles as an All About Me page.  The journaling is reflective and heartfelt and her element work elevates the page and brings a special kind of striking.  She inspires us to consider that Happiness is a process.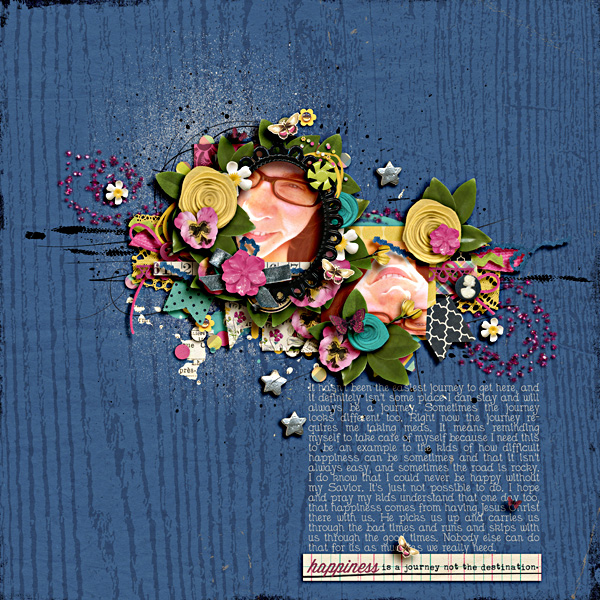 Kimberlee created such a creative and fresh portrait of Happy in her page..which is nothing less than a love story, documented.  I so love how she chose to scrap a classic story with bold and vibrant color.  This use of color oozes happy.  And so do these photos which capture expressions of joy.  The real gem is in the delivery of her journaling.  She speaks of how happiness and love transcend circumstance. She reveals what truly matters (and what truly brings happiness) by highlighting what doesn't matter.  It's a powerful perspective.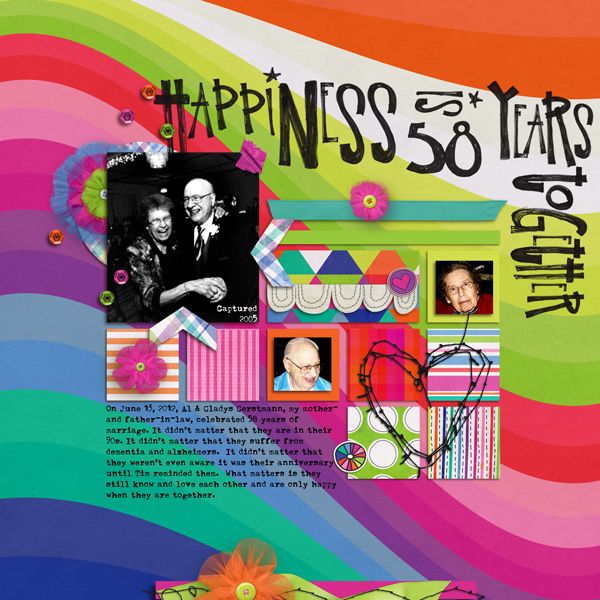 Laura shares wisdom with her daughter.  Her response to the prompt lives in the title work alone.  And that presentation is simple and yet so striking.  Her journaling is both a reflection of her daughter's disposition and a wish and hope for her as she walks through life.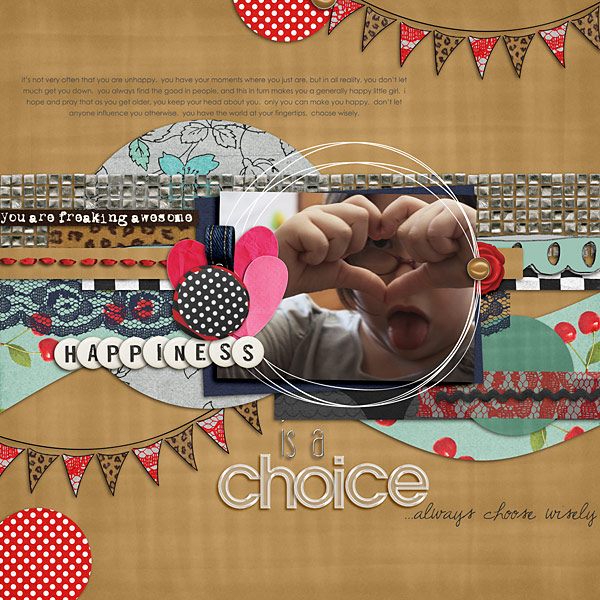 Michelle captures the happy that lives in simple and every day moments here by reflecting on conversations that are precious to her.  I love how the photos and the title work accentuate this special and endearing kind of communication.  It's the kind of page you can't help but smile at when you look at it.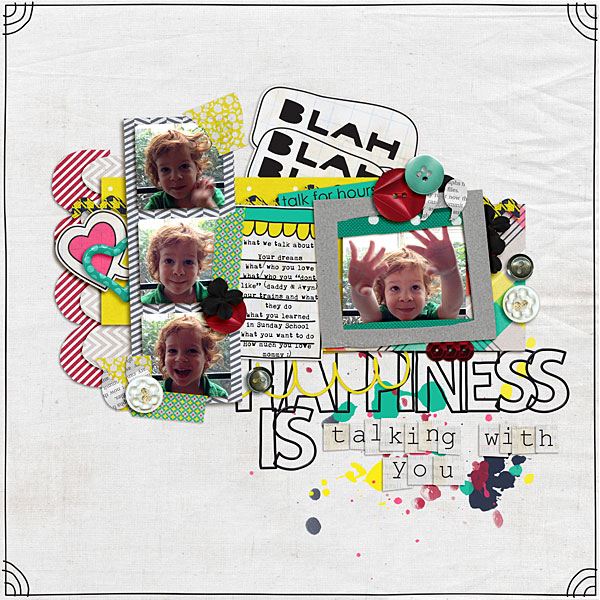 I hope that these pages have planted seeds for your own storytelling and I so hope you'll enjoy exploring this challenge!  I look forward to seeing your pages!!
————————————————————————————————————————————————-
To join in the challenge this month, simply create a layout or project or post following the posted prompt. Then, upload to the Plant Your Story gallery and comment here with a link to your posted page. You have until the end of the month at midnight EST, to complete the challenge. I will randomly select one winner to receive a $10 gift certificate to my store!!