Happy Monday! Welcome (back) to Grow With Love: Kids Edition.  So…here we are.  We are picking up where we left off and I'm so thrilled to be getting us back into these posts.  Crystal and I have been loving them so far and we are eager to step in to the final sequence of prompts and pages for our kids project!!  If you need to get caught up feel free to head back to the beginning or catch up on the latest update post.  As always we are so happy to welcome anyone who wants to dive in at any time and we hope you have fun making this project your own!  Most of all we hope you find it fulfilling and thought-provoking, fun and impactful.
So let's take a peek at what's next.  Here is the prompt for Day Fourteen: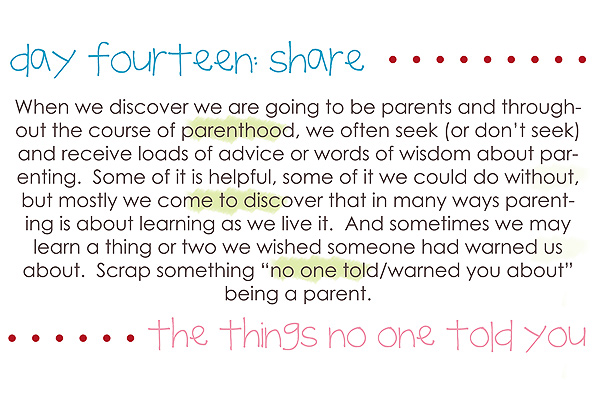 This is a prompt that has so many possibilities for direction.  I can envision many funny pages…maybe that it might be a good idea to invest in Mr. Clean Magic Erasers:
Or that there is such a thing as Toddler Math.  And one of the primary formulas to remember is: giving your toddler a bit of time to herself + silence = trouble. (Incidentally please forgive the horrific photography of this linked toddler math post.  It was before the days of a decent camera and before the days of my knowing anything about photography.  I still don't know much, but as you'll see..at least there's been progress. lol!!).

But there may also be pages brewing of a more serious tone, and that's the direction I took with mine as I reflected on this prompt. I decided to share a "wish someone told me" about some of the negative feelings that emerge in moments of parental frustration, or sheer exhaustion…I suppose, looking back, if I was being realistic I had to expect that these moments would happen.  But I think I always felt that my gooey-oozy-HUGE-never-before-experienced-unconditional kind of love would manage to ourweigh any irritations I might feel toward my child. And, in the end, it does.  But the truth is, sometimes I feel frustrated.  Sometimes I even feel irritated.  Sometimes I let those feelings direct my mood.  And then, almost immediately feel incredible guilt for having felt that way in the first place.  So I wish someone would have told me this would happen.  That I am not alone.  That it's rather normal.  And so…my page:

I went with stark background and photoless because it seemed to suit both the wish and the insecurity of "confessing" these feelings.
When you reflect on this prompt, no matter what direction you go in..be it fun and silly or more serious..think of how your page design or template transformation can "fit" the story you're sharing.  You can set the mood with design and color as much as you can with words.
We hope you have fun with this one!  Can't wait to see your pages!  And don't forget to check in with Crystal for Day Fifteen on Thursday.