Beginning this Summer Story adventure with words rooted in fertile ground. Good fruit grows here: Love.  A fabulous reminder from Vincent Van Gogh:
What is done in love is done well.
When we begin with love, good things can follow. When we plant in love, good things can grow. When we DO with love, we do the next right thing. And that's all that any of us can do. Come from a place of yes, lean in as they say…do it in love.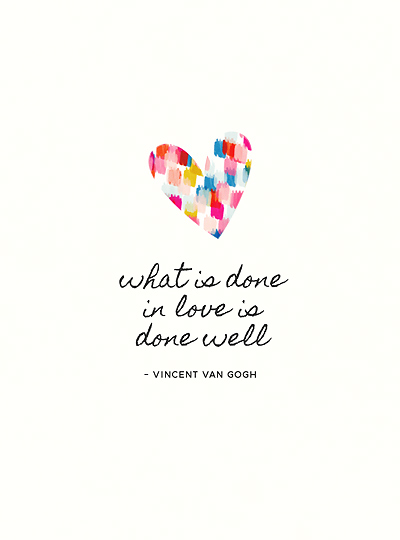 This quote felt like just the right one for the beginning of this parade of quotable inspiration.
Click to Download: One journaling card featuring this wonderful quote.  The journal card can be used in scrapbooking pages and projects, pocket scrapbooking spreads and layouts (both digital and traditional paper) and other creative summer projects from traveler's notebooks to mini books to planners.  The card is available as a single individual .png file and also on an easy-to-print high resolution PDF file.
You can access this free download by clicking on the preview image above or by clicking the download button or text below.