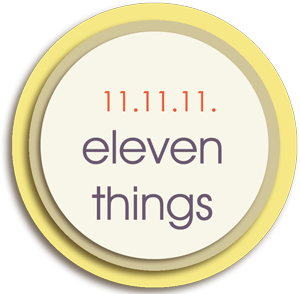 Tomorrow is 11.11.11 — isn't that neat?  It is somehow a little bit romantic, a little bit exciting, a little bit inspiring and a little bit fun all at once.   It's the rarity of it I think.  And the neat symmetry of it all, makes this day seem like it could be something a little extra special.  It's full of potential…the potential to be a little bit more deliberate and intentional with how you spend and document your day.
And it seems to be the perfect kind of day for documenting in lists!  You can scrap or photograph:
11 things that make you laugh
11 things that you are grateful for
11 favorite foods
11 favorite quotes (from famous persons, from music, from within your family)
11 favorite movies, songs, books
11 pet peeves
11 special people in your life
11 dreams you've had in your life (dreams of what you want to be when you grow up, dreams of where to travel)
11 reasons to smile
The possibilities for documenting Eleven Things this day are endless.  Settle upon a set of 11 and have fun getting listy!
Or you could focus on action and :
Be sure to capture the moment your clock reads 11:11 am or 11:11 pm
Engage in 11 Random Acts of Kindness (much like Robyn did 38 on her 38th birthday)
Send 11 thank yous to friends and loved ones or 11 little notes of encouragement, affirmation, hello or fun
Dance to 11 of your favorite songs in your living room with your daughter.  Or husband.  Or yourself.
Challenge yourself to spend exactly $11 somewhere (the craft store? The grocery?)
Leave 11 little notes for your spouse to find in the future
Take photos of 11 details of your day, your surroundings, your actions of the day (maybe use Instagram to help you document)
Join in on the One Day on Earth project where people set out to document this day and capture the world's story
And then of course there is lots of fun to be had creating art or decor or menus that reflect the number eleven.
Channel your best Count from Sesame Street and really embrace the day.  Set out to make it something special, something different.  Set out to *make* memories and document them.  Set out to have fun!